Promoting quality of life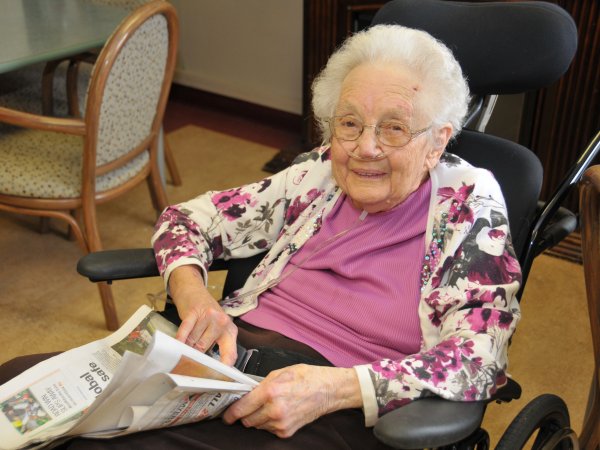 Resident Centered Programming
Our teams work diligently to create a warm, welcoming environment where our long-term care residents feel at home, including celebrating the many different cultures represented in our communities. Throughout the year, long-term care homes across our network regularly adjust their ongoing resident programming and engagement activities to reflect the cultural backgrounds of their resident populations, tailoring meals, holiday celebrations and religious activities to make them feel at home.
Diet offerings are tailored as much as possible to residents' preferences to honour resident culture and dignity. Food choices that help a resident feel truly at home are an important part of honoring resident culture and dignity.
We have a Resident and Family Experience Manager who advises and supports homes on approaches to resident engagement.
Restorative Care
Residents can improve their functioning after they enter a long-term care home. Through our restorative care programs, we work with residents and encourage them to do tasks such as eating, dressing, toileting and walking, on their own. Residents have entered our homes in a wheelchair and, with restorative care, have regained their ability to walk on their own.
Our pledge is to provide each resident with quality of care every day.
Palliative Care
Residents and families in long-term care deserve compassionate, high-quality care. Our teams work with families to tailor individualized care plans, for their loved ones, in what can be some of the most difficult times in their lives.
We provide enhanced palliative care training for interdisciplinary teams, in partnership with Pallium Canada, enabling high-quality clinical, spiritual and emotional palliative care supports for residents and their families.
Dementia Care
Our homes have teams who can provide care focused on the needs of people with cognitive impairments and dementia.
In some homes, we provide modified physical environments that are designed to support individuals who may have specialized needs. Additionally, across our homes, team members and leaders participate in training related to caring for individuals with dementia and cognitive impairment so that they can be supported throughout the progression of their dementia.
Responsive Behaviours
Depending on the types and complexity of behaviours, we can care for many people with responsive behaviours. In situations where a person may require more specialized care for team members to assist in stabilizing the responsive behaviours, we can provide recommendations on programs to help a person receive that specialized care as a transition step before arriving at the LTC home of their choice.
Skin and Wound Care
Skin and wound care is a critical part of seniors' health - especially for those living in long-term care. Our nursing team members across our owned long-term care homes have received specialized skin and wound training through the Skin Wellness Associated Nurse ("SWAN") program. They provide specialized care to residents in need of skin, hair, nail, wound and ostomy care.
We've collaborated with the Wound, Ostomy, and Continence Institute, operated by Nurses Specialized in Wound, Ostomy & Continence Canada (NSWOCC), to bring its Canadian Nurses Association-accredited training to Extendicare. Our partnership continues to enhance the care we provide to residents in these important areas, with ongoing quality improvement initiatives and access to the latest in skin and wound evidence-based best practices.
Graduates from this program play an important role in coaching and sharing their expertise with their nurse peers across Extendicare.
Ensuring Safety
Infection Control Program
As one of the few Canadian long-term care providers with a full-time team of Infection Control specialists, our commitment to infection prevention is clear. Their efforts in instituting best practices, conducting audits and training staff, have reduced infection rates and made our homes safer.
Fire Safety and Emergency Preparedness
Extendicare homes are equipped with automatic sprinkler system protection, emergency backup generators and are fitted with carbon monoxide detectors.
Extendicare follows the standard healthcare emergency colour code system and international Incident Management System structure when responding to emergencies. Under our fulsome fire and emergency preparedness programs, all homes conduct monthly fire drills and emergency preparedness drills as well as education to ensure all staff and residents are aware of and practice their responsibilities in the event of an emergency.
All of our homes are inspected by our internal fire and life safety consultant on a regular basis and have a home specific Fire Safety Plan and Emergency Response Plan that are reviewed and updated annually.
Emergency Response Plan
Medication Safety Technology
Our Medication Safety Technology (MST) Project is focused on improving medication safety through several streams of work, including by directly targeting one of our core quality indicators, antipsychotic deprescribing.
It is a collaborative effort from our team members and family members as partners in care and has oversight from our physician working group on medication safety technology.
Medication safety plays an important role in our mission to improve care every day and furthers our commitment to providing quality care to the seniors we serve.