Our commitment to quality is unconditional
Extendicare helps people live better by focusing on four main areas of improvement:
Quality of care
Quality of life
Safety
Resident and family satisfaction
To demonstrate our continuous improvement in these areas, our performance is constantly reviewed and assessed internally within the context of established quality indicators covering admission and discharge procedures, nursing and personal care, food quality, housekeeping and laundry, and resident and family satisfaction.
Providing Quality of Care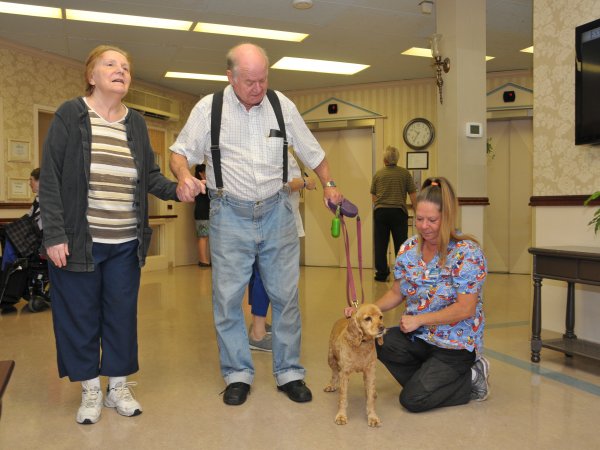 Our National Quality Framework
The Extendicare National Quality Framework is a documented set of protocols, best practices and proven methodologies which standardize our operations and guide our commitment to quality at every long-term care home.
Our organization-wide commitment to enhance the quality of care we provide across every home we operate and the care we deliver to our home health care clients means we are always seeking new ways to evolve our practices.
Our Chief Medical Officer, Dr. Matthew Morgan, develops clinical strategies and coordinates their implementation organization-wide. Dr. Morgan has extensive experience as a health systems leader with a strong background in performance management, quality improvement and digital health.
Extendicare is fortunate to count some of the best care practitioners and support workers in the country among our team. Their work is critical as we strive to improve the overall experience for the people in our care and support their physical, psychological, emotional, and social needs. The compassion, dedication and professionalism displayed by our people are at the heart of the safe, caring environments we create in our long-term care communities and everywhere we provide home health care.
Accreditation
Extendicare long-term care homes are fully accredited by a recognized independent, third party accreditation bodies. In addition a number of Extendicare employees often participate as surveyors in accreditation reviews of other homes.
Clinical Indicators
Our quality improvement plan is focused on the following core metrics:
Falls
Worsening pressure injuries from stage 2 to 4,
Restraints use; and,
Use of antipsychotics without a diagnosis of psychosis.
Driven by our organization-wide commitment to clinical excellence, we have set our performance targets at best practice levels, with the intentional objective to work to exceed the Canadian Institute of Health Information's (CIHI) annually reported national averages for long-term care homes across the country.
Expert Support
We have a corporate team of experts, including nurses, dietitians, infection control and environmental health specialists, fire safety experts, policy and program consultants and others that support our homes on a daily basis, helping to identify and implement best practices.
Evidence-Based Programs
Our clinical experts are responsible for developing company-wide policies and evidence-based programs to ensure that our homes are implementing best practices in care. We review our policies at least annually to ensure they are up to date and reflect current evidence and advance best practice. Our evidence-based programs include:
Continence Care
Dementia Care
Falls Prevention
Pain Management
Palliative Care
Restorative Care
Skin and Wound Care
Achieving results
Quality program initiatives are implemented across all Extendicare homes by the home's interdisciplinary team under the coaching and guidance of central quality consultants through Quality Enhancement Teams.
In support of our homes, Quality Enhancement Teams provide:
Evidence-based best practice toolkits
Leadership with lean quality improvement initiatives
Regular coaching for team members on care practices
Project oversight
Reporting for all quality improvement